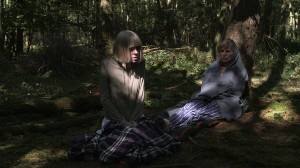 Just wrapped principal photography on Hinterland, a low budget independent feature film written and directed by Douglas M. Ray. Shot on extremely meagre resources the film stars Eva Birthistle (best known for her award-winning role in Ken Loach's "Ae Fond Kiss"). I had previously worked with Eva on "Days of Flowers" which premiered at Edinburgh Film Festival this year. Other principal actors are Paul Hilton and Antonia Campbell-Hughes. There are also inspired improvised cameo appearances from comics Matt Berry and  James Lance. Hinterland is a comedy thriller with a rather unusual tone.
The film was a challenge as it had to be approached in a "guerilla" style with a tiny and largely inexperienced unit, virtually no monitoring, no dolly, track or Steadicam, very few facilities and very little lighting. I photographed it using the lightweight Canon C300 and a set of Arri-Zeiss Ultraprimes. Much of it was shot in the woods of Black Park next door to Pinewood. The minimal equipment meant we were able to move extremely fast in rough terrain. Also the C300 provided excellent image quality often in extremely low light. Many interiors around London were shot with no lighting at all.
Its exciting how, with new cameras  cinematography is changing so rapidly towards obtaining an attractive look without having to burn huge amounts of watts !